100,000-300,000m³/year AAC block production line
AAC block plant is specialized for autoclave aerate concrete blocks producing. The density of aac block can be 350-700kg/m3. All the parts and design adopt German technology. The main parts include raw material preparation, dosing, mixing, pouring, pre-curing, cutting and autoclaving.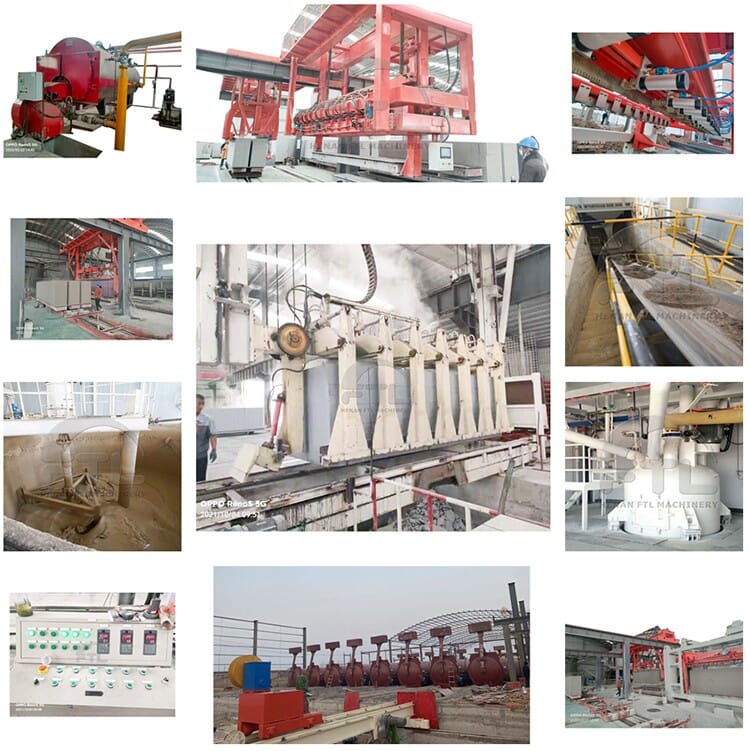 General process of AAC block production line
1. The raw materials (quicklime, cement and gypsum) are stored in the storage silos and fed to the mixer in a controlled process.
2. The sand is prepared with a certain quantity of water in the ball mill for wet grinding to form a sand sludge.
3. The precisely weighed raw materials are fed in a specified sequence to the pouring mixer. Here a homogeneous mass is produced exactly according to the recipe specifications that are set and processed by a control system
4. The aerated concrete mixture is poured from the mixer into an oiled mould. After that, the filled moulds are transferred to the resting and pre-curing room , under a certain temperature and time, the green body will reach a certain hardness for cutting.
5. As soon as the cutting characteristics of the green body are achieved, the mould is forwarded to the demoulding area. Here the body is gently separated from the mould. The empty mould can be oiled either manually or in a completely automated way before it is prepared for re-filling under the mixer.
6. Before cutting, the AAC body is tilted by 90°. Standing upright, the body goes through the individual stations of the cutting line (vertical cutter, horizontal cutter). We can provide various cutting machine to suit your production capacity levels.
7. The body is set on the steam-curing cart by unfinished product hoister, then grouping the cut blocks and sending the into autoclave.
8. The autoclaving is carried out in long pressure vessels (autoclaves). The autoclaving process is carried out according to precisely defined procedures. The usual duration is between 10 and 12 hours. During autoclaving, the aerated concrete acquires its final quality properties.
9. The finished AAC blocks are packed in the packing line either manually or in a completely automated way.
10. The bottom (side) plate and cart return back.