FTL factory history
FTL Machinery (also known as Yigong Machinery) are the professional AAC block plant manufacturer in China, we have 40+ years' experience of manufacturing and design in AAC block production line.
Aerated block production line process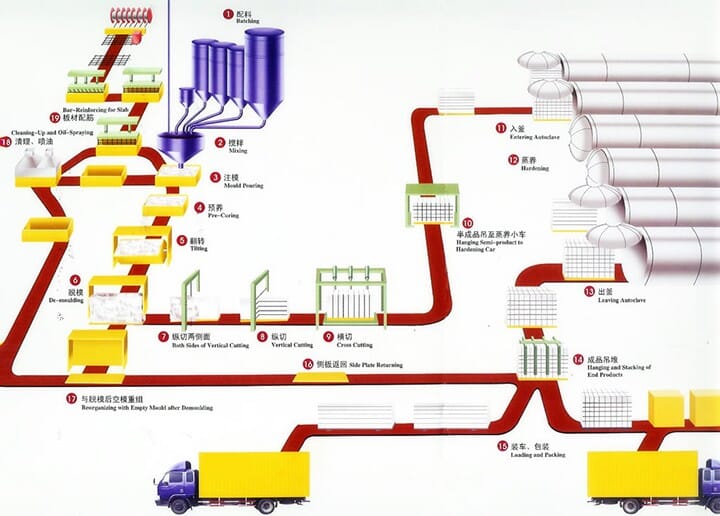 1.

Raw material storage
Fly ash or sand, cement, lime, gypsum, and aluminum slurry should be stored in the material yard separately, and transported to the workshop when used.
2.

Raw material preparation
The fly ash or sand is sent to the ball mill for grinding through the conveyor belt, and the ground slurry enters the slurry tank through the slurry pump.
3

.

Batching, mixing and pouring process
Lime and cement are separately transported by conveyor to dry powder weighing scale for measurement. The slurry is transported to the automatic scale by the slurry pump; the power and the slurry enter the mixer and pour into the mold.
4

.

Curing, cutting



After the slurry is poured into the mold, put the mold into the curing room at 50-70°C. After curing for 2-3 hours, the block is cured, and the mold and block are moved to the cutting cart with a reversing crane for demoulding. The cutting cart takes the block to the horizontal cutter, cuts it vertically, cuts both sides, and removes the top scrap.
The cutting machine is a very important part of the autoclaved concrete block production line. The output is over than 50,000m3. The cutting machine in our factory can cut green body instantly with six-side cutting; Due to its advanced technology, it does not need secondary lifting, which can reduce the damage to the car body caused by multiple lifting.
5

.

Autoclaved and finished product



The semi-finished products are transported to the front of the autoclave in groups by a crane. The crane or tractor drags the steam car into the autoclave for steaming. After steaming for 8 or 10 hours, it is pushed out again by the crane or tractor. After packing, they are transported to the yard with a forklift.